Clubhouse Rental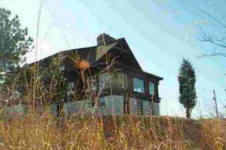 The Clubhouse may be rented for social events only by Dune Acres' residents.
It is available for private rental only during the months of April through November.
Rental of the Clubhouse DOES NOT include the use of tennis courts, beach areas or any other facilities of the Town of Dune Acres. The Clubhouse is NOT available for political parties. It is NOT available for fund raising events other than those that directly benefit the Dune Acres Civic Improvement Foundation or the Town of Dune Acres. Nothing may be removed from the Clubhouse for private use at any time. Chairs and tables, etc. are NOT available for private use.
The maximum safe accommodation at the Clubhouse is 150 occupants.
Dune Acres Clubhouse rental application/agreement must be submitted to the rental coordinator. The clubhouse rental application/agreement form and instructions for use are available by clicking here (Adobe PDF format), or requesting the forms from the Town Clerk or the Clubhouse rental coordinator. Rental fee is $500 plus 7% Indiana tax. In addition, a cleaning/damage refundable deposit of $500 is required. The total of $1,035.00 should be in the form of a check, included with the rental application. Checks are to be made payable to the Town of Dune Acres.
The Clubhouse is not available for rental on the following dates:
December 1 through March 31, except for Town-sponsored events

May 18, 2013

May 25, 2013

June 9, 2013

June 15, 2013

July 12, 2013

August 10, 2013

September 21, 2013
In the past, we filled many of the available weekends, so let me know your preferences as you make plans. First come, first choices, etc.
Since our clubhouse is a non-profit, town facility which the Town maintains and keeps available for all of us to use, our overall requirement is that people put everything back the way it was before their event. There is no regular "staff"—it's just me and other residents who volunteer time to make this work.
So thank you for reading. If you have questions, please call me.
Clubhouse Rental Coordinator